TOURS
OMA-BRAND TUNA Pole Fishing Observation Tour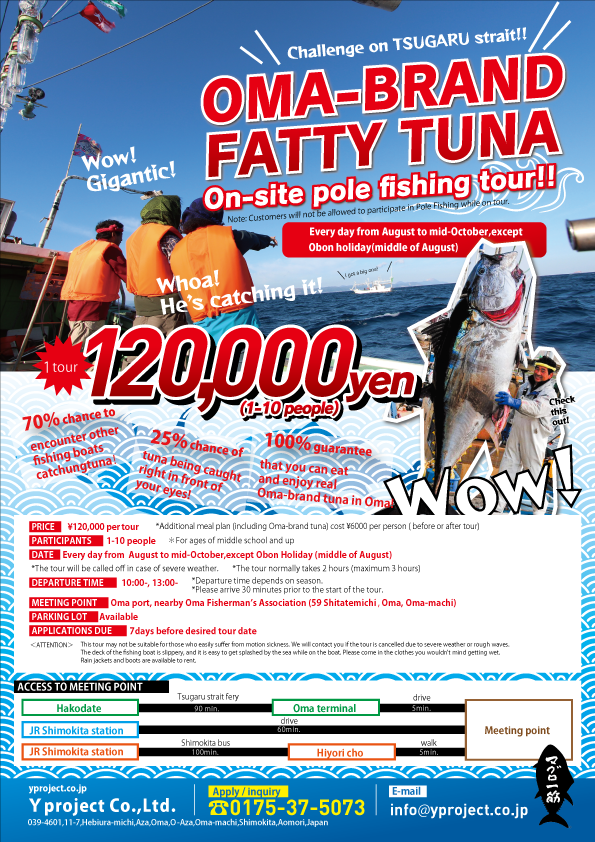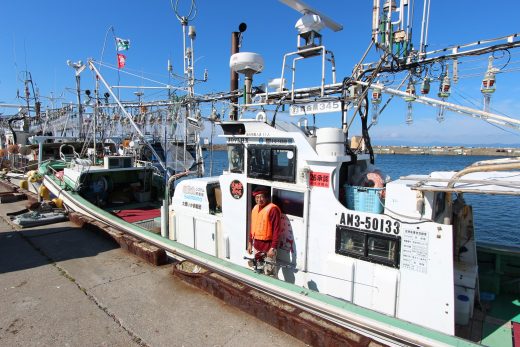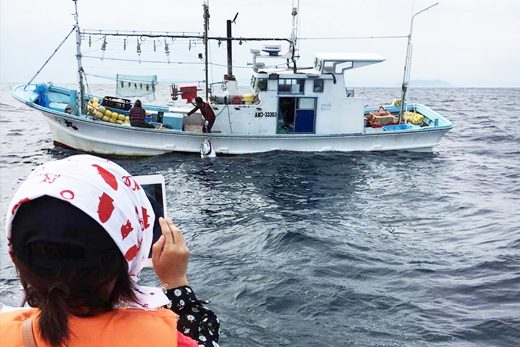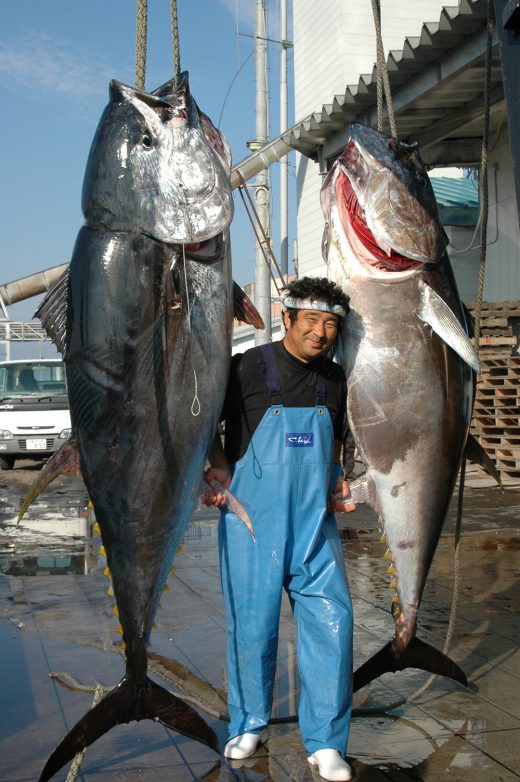 The appeal of the tour
We have stopped accepting reservations until the spread of COVID-19 infection is over. Future plans will be decided after consultation based on social conditions. We apologize for the inconvenience, but please wait until we inform you it is safe to resume making reservations.

Tsugaru Strait is a serious fishing ground: it's a battlefield where humans and huge
tuna face off! A genius tuna fisherman once said, "I do everything I can do," when fishing for the ocean's natural gift, tuna. Schools of tuna swim in the rough waves of this fishing ground and hundreds of boats gather to fish for those shimmering, black ocean diamonds. Normally the only people allowed to go into the fishing ground are our local fishermen, so this is tour is a priceless opportunity to feel what it's like to fish in the Tsugaru Strait! If you're lucky, you can feel the heat of the tuna battle up close and personal!

◇Tuna pole fishing◇
This is a traditional fishing method that has been practiced for over 100 years.Huge tuna is caught by a hook attached to a single pole. It sometimes takes a few hours! The biggest tuna ever caught on record weighed 440 kilograms, and it was caught in 1994. Pole fishing is being recognized as a good way to protect marine resources.

◇58th KAIYO-MARU◇
The fishing ground is about 5 kilometers (20 minutes) away from Omazaki. A professional fisherman will take you on this 4.8 ton boat, giving live tuna fishing commentary. He is very experienced in tuna longline fishing.


Dates available
Tours are available every day from August to mid-October, except Obon festival(middle of August) *Tours not currently held regularly. Please inquire for details.
Number of people
Up to 10 people may participate in this tour. *For ages of middle school and up
Cost
¥120,000 per tour
Departure time
10:00 or 13:00
*Departure time depends on season.
*Please arrive 30 minutes prior to the start of the tour.
*The tour normally takes 2 hours (maximum 3 hours).
Meeting point
Oma port,near Oma Fisherman's Association (59 Shitatemachi,Oma,Oma Town)
*we can arrange for a taxi to pick you up.
Parking
Parking is available.
Applications
Please apply at least 7 days before desired tour date.
*Caution-
This tour may not be suitable for those who easily suffer from motion sickness. We will contact you if the tour is cancelled due to severe weather or rough waves.
The deck of the fishing boat is slippery, and it is easy to get splashed by the sea while on the boat. Please come in the clothes you wouldn't mind getting wet. Rain jackets and boots are available to rent.
cancellation policy
Our cancellation fees are as follows:

The day before the tour: 40% of participation fee
The day of the tour(before tour starts): 50% of participation fee
The day of the tour (After the tour has started, non-participation): 100% of participation fee